We've been fielding emails left and right on who all the new names are in the city, so by popular demand, here's the skinny…
By beauty maven Sara Schlieff-Ross, an esthetician for more than 15 years, ArchBeauty SkinCare Salon & Boutique has opened on Newport's Memorial Boulevard, offering a diverse assortment of services including facials and waxing treatments for men and women. Oh, and did we mention the brow bar? Fabulous! Sara will create perfectly-shaped brows that frame your face and she ca
n tint them to complement your skin tone. Find Butter London natural nail polish as well as Alchimie Forever, G.M. Collin, Colorescience and Skinceuticals skin care there in addition to the cutest selection of organic baby clothing by Newport's own Simply Chickie by Gwen Design, tote bags made from re-purposed spinnakers by locally-owned Leslie, and make-up bags by Australian designer Apple & Bee. ArchBeauty, 18 Memorial Blvd., Newport, 619-5885, www.archbeauty.com
Longtime friends and designers Boo Gemes, Lily Holt and Sequin have set up a pop-up shop at 119 Bellevue Avenue (the former home of Angela Moore who has
moved to 190 Bellevue) for a chic collaboration of fashion and style. Boo Gemes is best-known for timeless lifestyle clothing for women from cashmere sweaters to colorful tunics to silk separates. Much-loved Palm Beach shoe designer Lily Holt has brought her bling-tastic collection of sandals and stilettos, all handcrafted in Argentina, to Newport. Joining them are sisters Kim and Linda Renk with their jewelry line, Sequin, a collection that is no stranger to Newport. Through the years, the generous sisters and animal lovers have donated their covetable enamel bracelets to raise money for the Potter League. Kim is a longtime resident of Newport and Jamestown and this time, she brings Sequin (the number one supplier of costume jewelry for Henri Bendel) to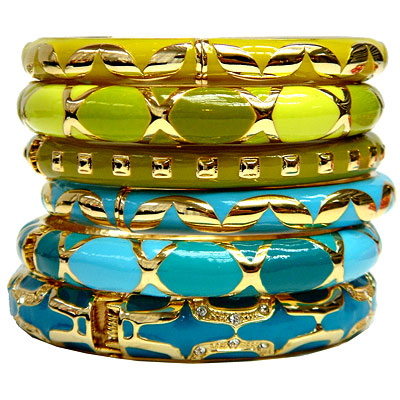 Newport in two different capacities. It's a Sequin two-fer with pieces found at the collaborative shop with Lily and Boo, and another with an all-Sequin shop at 474 Thames Street. The Lower Thames location is Sequin's second to open this year following the Palm Beach boutique in January (and when not opening new shops, Kim designs jewelry with Badgley Mischka, J. Mendel, Douglas Hannant as well as for Target and Kohl's). Sequin's collection is priced from $30-$700. Boo Gemes, Lily Holt, and Sequin, all located at 119 Bellevue Ave., Newport, 619-5713.
Design Newport brings interior design back to this part of Bellevue Avenue as owner Stella Martin has a keen eye for classic pieces. Inside the cozy shop is a collection of great antiques, home accents and the guidance of Stella to help outfit the home. Note: Beautiful pooch/Design Newport mascot, Maxwell , a lovable Airedale, not for sale….Design Newport, 121 Bellevue Avenue, Newport, 802-279-0684, www.osborne-martininteriors.com

Phyllis Satin, owner of Twig, has had multiple retail locations of her original shop, WAVE, across Newport until it closed last year. With their flagship store based in New Haven, Connecticut, Satin had almost thrown in the towel on a Newport location, but when Karen Vaughan closed, she saw an opportunity. "Twig, a branch of WAVE," which opened last month, is one of those shops you take your time in because there's much to see, fun quotes to read and unique finds around every corner. There's also a lot of pieces with natural elements in the shop, hence the name, Twig. Satin has dubbed this part of town "NoBe," for North Bellevue; we'll see if it sticks… Twig, a branch of WAVE, 146 Bellevue Avenue, 619-1004.
Not exactly a new name in Newport, but fine jeweler Three Golden Apples has opened a second location on Bowen's Wharf much to the delight of upscale jewelry lovers. They're located at 39 Bowen's Wharf, Newport, 846-9931, www.threegoldenapples.com
We reported on Badgley Mischka's launch last week and J. McLaughlin's arrival in May. Oh, and ps: We just got word of another new neighbor moving into Newport any day now…stay tuned….