If you've been braving the crowds and hitting the downtown pavement of late, you'll have noticed a few new storefronts here and there. Among them, the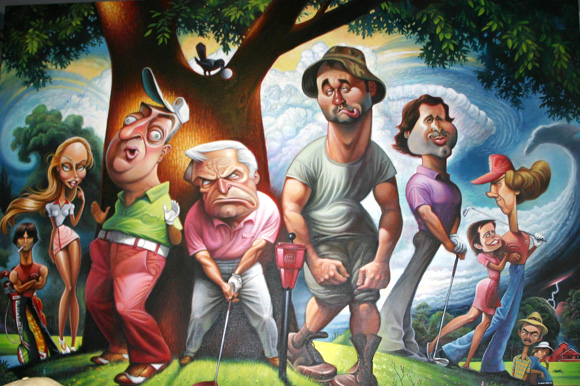 eye-catching paintings, prints and sculptures in the windows at the David O'Keefe Studio right on America's Cup Avenue (technically it has a Bannister's Wharf address, in the former gallery of artist couple Didi Suydam and Peter Diepenbrock, who moved just a stone's throw away to 25 Mill Street). O'Keefe, said to have been "raised on Hollywood, sports and rock and roll," was an editorial illustrator for over 25 years, and his work is found in galleries across the country. According to his bio, his "sardonic caricatures and humorous illustrations have appeared on the covers of Sports Illustrated, Sports Illustrated for Kids, Mad Magazine, The Village Voice and within the pages of TIME." Now he captures the likeness of pop culture icons full time, and the Newport studio joins his flagship shop on tony St. Armand's Circle in Sarasota, Florida.
At the end of Bannister's Wharf, meanwhile, is a new apparel and accessories store from Newport Shipyard,
appropriately named Newport Shipyard Outfitters. T-shirts, sweatshirts, French sailor shirts by Nantucket's Peter BeatonThe Coffee Grinder. (love..), and outerwear for men women and children join preppy grosgrain ribbon belts, caps, dog collars, tote bags, and various sundries, mostly alll emblazoned with the familiar shipyard logo. The cozy shop is convenient located right across from one of my favorite java joints,
Speaking of essential sustenance (e.g., espresso, scones), recently opened Pop's brings soft serve ice cream (including the low-cal Only 8 frozen yogurt) and water ice to wayfarers day and night. The sweet shop is located on the small turn around off Memorial Boulevard next to The Red Parrot and celebrates the taste of summer.
Down on Christie's Landing, Style Newport has opened (very strategically, just steps away from the newly opened, totally luxe Forty 1° North hotel) featuring custom jewelry by designer Karen King.  Her Sterling silver and stone enamel charms each have a message, and all of materials used are the suppliers are locally sourced.
Bienvenue!